Super 30 song Basanti No Dance: Hrithik Roshan teaches his students to say, 'May I come in Sir' in the quirkiest way
The third song of Hrithik Roshan's Super 30 titled Basanti No Dance shows the teacher's unique ways of teaching his students. This song is set with Holi as its backdrop and sees Hrithik's students coming up with a quirky English street play which is a satire on the language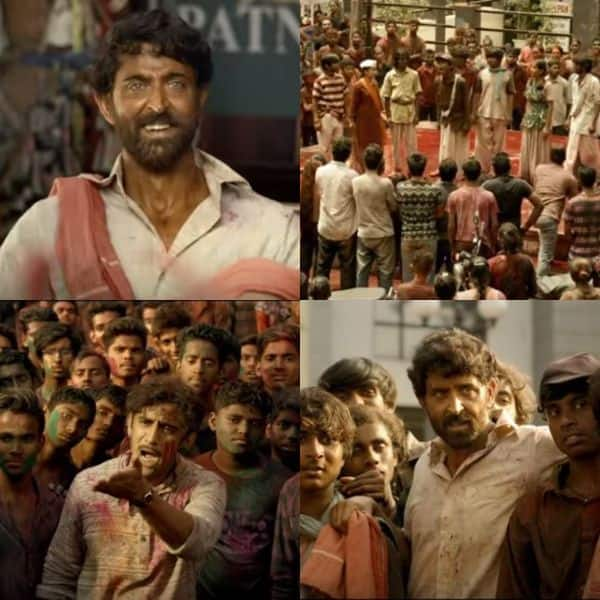 After Super 30's second song Paisa which was a montage of how Hrithik climbs the ladder of success in the film, the makers have now released the film's third song Basanti No Dance. Hrithik, who will be seen portraying the real life mathematician Anand Kumar in this biopic, is seen encouraging his students to talk in English as that's the way to go if they want to beat other kids at competitive exams. In order to get the fear of the language out of the kids, Hrithik asks them to perform a street play in front of a large gathring and insists that it has to be performed in English.
The video features the students performing a street play on the iconic 'Basanti inn kutton ke saamne mat naachna' scene from Amitabh Bachchan-Dharmendra-Hema Malini-Jaya Bhachchan's cult film Sholay. However, they turn it into a satire on the English language and while the crowd is initially seen mocking the kids, they eventually get in the groove and end up playing the festival of Holi along with the children belonging to the lower classes as well. The clip ends with a hard-hitting conversation between Hrithik and
Sharing the song on his Twitter account, Hrithik wrote the same message in his cption saying, "अंग्रेजी का डर हटाओ। क्यूँकि ऐसे बहुत से दरवाजे हैं दुनिया में जो सिर्फ इसीलिए नहीं खुलते क्यूँकि लोग 'May I come in' नहीं कह पाते." Here's the post
Basanti No Dance shows Hrithik in various moods – from worried for his students who don't know how to communicate in English, to ecstatic at their brilliant performance in the street play, to a smug look as he stands along with them and shows people how they can easily converse in English to survive the competition. The song is sung by Prem Areni, Janardan Dhatrak, Divya Kumar and Chaitally Parmar. It is composed by Ajay-Atul and the lyrics have been penned by Amitabh Bhattacharya.
Talking about Super 30, Reliance Entertainment in association with HRX Films will present this Sajid Nadiadwala film which is a Phantom Production. Produced by Nadiadwala Grandson Entertainment, Phantom Films & Reliance Entertainment, Super 30 is directed by Vikas Bahl and also features Mrunal Thakur, Pankaj Tripathi, Nandish Singh and Amit Sadh. The film is slated to hit the theatres on July 12.
BL Verdict
Basanti No Dance is a groovy number if you are in for some crazy foot-tapping dance and the range of emotions shown in the video make it an entertaining watch. We feel it can easily rank in the top 5 spots on music charts thanks to its hook line, 'Basanti no dance, in front of these dogs.'
Stay tuned to BollywoodLife for more scoops and updated.