Oh Baby movie review: Samantha Akkineni is outstanding in this comic caper
Oh Baby features Samantha Akkineni, Lakshmi, Rao Ramesh, Rajendra Prasad and Naga Shaurya and is the official remake of the Korean film Miss Granny. The film is directed by Nandini Reddy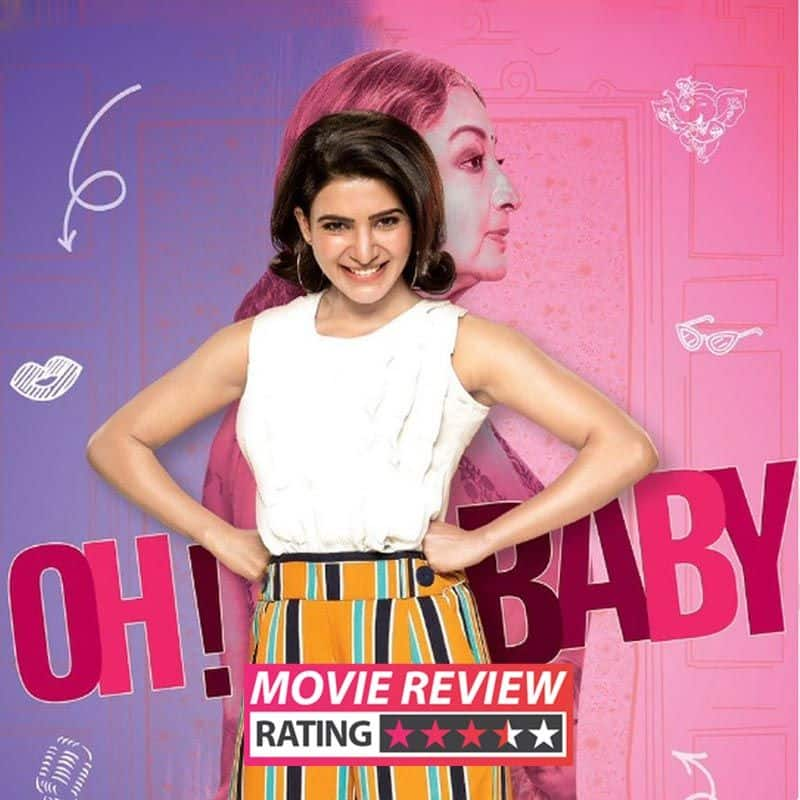 Before we look at what director Nandini Reddy has to offer in Oh Baby, let's quickly talk about the trailer of the film which almost reveals the entire story of the film. There's veteran artist Lakshmi narrating her life story and parallely, Samantha too is talking about similar things happening in her life. What could probably be the connection between their lives? How are Samantha's and Lakshmi's characters related? This is where director Nandini Reddy brought in all her expertise to the table to mash this up. Oh Baby, as we know, is an adaptation of the Korean film Miss Granny, a fact which is known to many by now. And if you have already watched the original, you still need to watch Oh Baby for Samantha Akkineni.
What's it about
Baby akka, played by Lakshmi, is a 70-year old woman who takes care of her family and loves them to bits, literally, besides running her own business, a cafe in a college where her son Shekhar, played by Ramesh, works as a professor. Baby runs the cafe with her childhood friend Chanti, essayed by Rajendra Prasad, who knows everything about her life. Baby akka's daughter-in-law misunderstands her affection as domination which creates ripples in their family. This results in Baby akka being forced to leave the house without informing anyone. And in the process, Baby lands in a flee market where she decides to get a photo clicked so that she looks beautiful in her last picture before she dies. At this juncture, Baby akka ends up turning into a 24-year old woman. How life turns upside down for Baby akka and how she handles all the weird situations after this is the core story of Oh Baby.
What's hot
Samantha Akkineni is outstanding in her role and delivers the performance of a life time. The character requires an actor to be mentally 70 and physically 24 and needs a pinacle of maturity. And Samantha Akkineni displayed the same each time she was on screen. Veteran artist Lakshmi is a delight to watch in her role as Baby akka which actually is the foundation for the arc of the role. Samantha builds on this foundation and makes it a full circle, leaving you raving about it. Rajendra Prasad is the best friend we all would want to have when we enter our 60s and the reason we say that is because of the conviction with which the four-decade old artist essays the role. Rao Ramesh proves yet again why he is the most reliable actor in Telugu film industry and his performance will stand out in Oh Baby. Teja Sajja playing Baby akka's grandson is perfect and his comeback is a successful attempt. Performances by Sunaina, Urvasi, Hemanth, Pragathi and other supporting artists only amplify the film as a whole and make it a delight to watch. Oh Baby has quite a few emotional episodes and these needed a touching background score and Mickey J Meyer does his job more than brilliantly. He does need a special mention. The mood of the film is brilliantly set by the visuals which are cranked by Richard Prasad and the technician pulls off a great job.
What's not
The first half of Oh Baby zips through even before you realise but you can't have the same opinion about the second half. While the establishments take very little time to be registered, it's the aftermath that does the damage. The film slows towards the end and tests a bit of your patience. When we are dealing with an emotional subject, it goes unsaid that there would be high drama. Oh Baby does have some impacting scenes on the emotional front but there are quite too many of them in the second half which makes you feel it's a bit of a dragged.
BL verdict
All said and done, Oh Baby is a film which will make you laugh, cry and have tears of happiness for it has its heart in the right place. Watch out for Samantha Akkineni's brilliant performance and Nandini Reddy's storytelling prowess. And with that we go with 3.5 stars for Oh Baby!
Rating:
 out of 5

Reviewed by Gautham Pattikonda
* Poor
** Average
*** Good
**** Very good
***** Excellent