#BLBestof6: Kangana Ranaut or Taapsee Pannu – who is the best actress of the first half of 2019? Vote now!
The first half of 2019 has gone by and the task to pick a favourite is upon us. So, vote for your favourite actress among Alia Bhatt, Kangana Ranaut, Taapsee Pannu and Katrina Kaif right here, right now!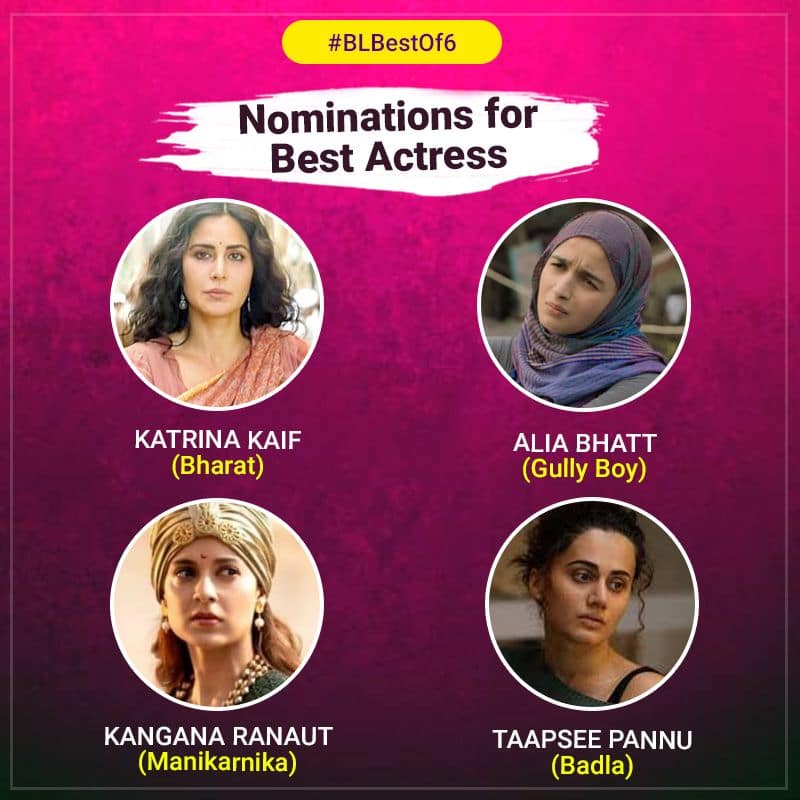 So, we successfully sat through the first half of 2019. We say sat through because the term has been a good one, you know, movie wise. Yes, it has been a good one for Bollywood with massive releases which have managed to mint big bucks at the box office. Luckily enough, these were also entertaining ones that enticed the audience with its gripping plots. Of course, there were a few duds that left the screens before we could realise, but mostly it has been a good run so far with big-ticket blockbusters like Kabir Singh, Bharat, Uri, Gully Boy and Manikarnika to name a few favourites. And while we are still at favourites, it's time for #BLBestof6 and it's time to throne the best actress of the first quarter.
So, from Kangana Ranaut to Alia Bhatt and from Katrina Kaif to Taapsee Pannu, here are our nominations for the best actress category for the first six months…
Katrina Kaif (Bharat)
While Bharat was mostly about Salman Khan and his larger-than-life personality translating on screen, Katrina Kaif left an indelible mark as she played the part of Kumud Raina aka Madam sir to the T. With those charismatic curls and chaste Hindi, Katrina proved why Ali Abbas Zafar flocked to her after Priyanka Chopra made an exit from the film.
Alia Bhatt (Gully Boy)
Alia Bhatt's Safeena was to Gully Boy what the actress is to Bollywood; a fresh breath of air with individuality and character. Her candour is still fresh in our memories and so is her feisty spirit that deserves a spin-off of her own, TBH. We can only hope that Zoya Akhtar is listening.
Kangana Ranaut (Manikarnika)
Unstoppable is the word that comes to mind when one sits to think about the work Kangana Ranaut put into the making of Manikarnika: The Queen of Jhansi and the efforts she put in to bring to life the valour of the queen of Jhansi. Even as a director, she didn't let the performer in her take a back seat and set the screen ablaze.
Taapsee Pannu (Badla)
It is not easy to hold your own in front of legendary actor Amitabh Bachchan but Taapsee Pannu has done that and how! The actress hit it out of the park in this edge-of-the-seat thriller that had her in greyer shades than we have seen her pull and boy, was it enthralling. More of these, please!
So, who impressed you more? Let us know and vote for your favourite right here. We are waiting to hear from you!
121 people are talking about this
Stay tuned to BL for the winners of #BLBestof6 and more scoops!