iSmart Shankar movie review: A loud Ram Pothineni tries hard to save this insisting tale
Read our review of iSmart Shankar starring Ram Pothineni, Nabha Natesh and Nidhhi Agerwal and directed by Puri Jagannadh.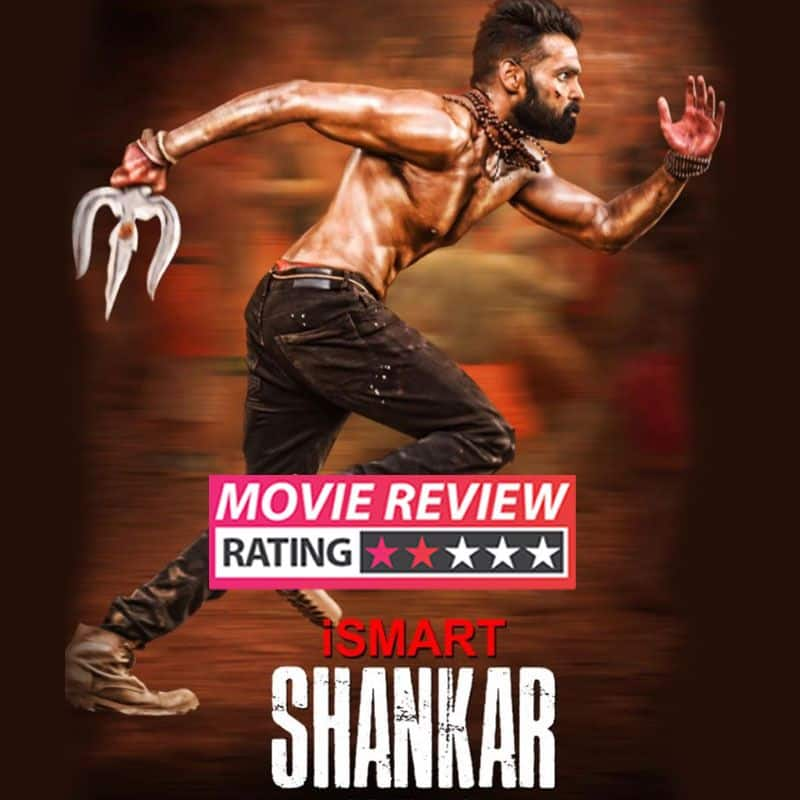 Before we get to what Puri Jagannadh and Ram Pothineni present in iSmart Shankar, let's talk about a myth that underlies in Telugu cinema. Fostering a Telangana accent with loud presentation doesn't make it a massy subject! iSmart Shankar, somewhere, takes this for granted and almost turns into a dictionary of Telangana with some cuss words here and there. When Puri Jagannadh unveiled the trailer of iSmart Shankar, we knew this was coming with some elements of suspense, heavily-loaded action, twists (which are almost predictable in his films these days) and some glamour. Puri places Ram Pothineni amidst all this and labels it iSmart Shankar and dashes it with the Telangana eccentricity. Does it work? Let's see…
What is iSmart Shankar about:
iSmart Shankar (Ram Pothineni) is a street-smart, massy and flamboyant young man who lives life by his rules, including taking up criminal activities for quick bucks. Shankar meets Chandini (Nabha Natesh) in the process, who is a civil engineer in a construction company, resulting in the two falling in love eventually. In one of the paid assignments, Shankar kills a popular politician and in the process of running away from police, his girlfriend Chandini gets killed and Shankar gets arrested. He later escapes the prison and is on the lookout for the mastermind behind the murder because he seeks vengeance now.
Parallelly, CBI Officer Arun (Satya Dev) is investigating the same murder from another angle and almost cracks it but gets killed en route. Arun's girlfriend, Sarah (Nidhhi Agerwal) is a neuro-scientist and is asked by her senior officer Parameswar Rao (Sayaji Shinde) to place Arun's memory cells in Shankar's brains, who is also shot in the same encounter along with Arun, so that they can retrieve all the details that the officer had gathered during the investigation. How Shankar takes revenge for the death of his love interest and how Arun nabs the real culprit, both in one set of brains now, takes the story further.
What's hot:
Ram Pothineni brings a pinnacle of energy to the screen and turns into a livewire whenever he appears. From skin tan to toned body to the Telangana accent, Ram aces everything like a pro and scores a 10/10. Puri Jagannadh puts together a great set of actors like Satya Dev and Sayaji Shinde for important roles and proves why the Telugu audience rely on him for enjoyable films. Nabha Natesh and Nidhhi Agerwal have enough scenes to put up adequate performances and make their presence count. But, we may sound repetitive, Ram outplays all of them and stands tall all along. Mani Sharma, the music composer, knows how to impress the audience and repeats it with iSmart Shankar. The background score of the film, every now and then, gives you a high which stays for a while with you. Sayaji Shinde, Deepak Shetty, Ashish Vidyarthi and other supporting artists put up a decent show, which they always do, in the film.
What's not:
When the protagonist of a story is forced to do heroic scenes, comedy, intense, mudslinging, wooing and every existing emotion, then it often tends to become an overdose. iSmart Shankar is just that. Shankar's portrayal as I-don't-care-who-you-are character is fed in almost every scene throughout the film which makes it an overdose, and we know how an overdose feels like. Too many parallelly running stories shift focus from one to another, resulting in chaos. Puri's writing hear loses track and ends up being a chaotic room which makes you feel claustrophobic. The writer in Puri slips slightly to hold together the plot which he sets up in the first half of the film. The concept of transference of partial memories dashed with vengeance and a huge slice of mass is an experiment, and these kinds of experiments run the risk of dying down very quickly. iSmart Shankar is very close to this.
Ram Pothineni, a day before the release, had said that the film is to be enjoyed for the high moments it creates and compared the situation to a concert of Rock Band Metallica. And when we did exactly that, you are served a heavily cooked up dish which is hard to gulp down.
BL Verdict:
Puri Jagannadh and Ram Pothineni honestly try to deliver an enjoyable massy film and almost succeed but miss the larger picture in the attempt. iSmart Shankar may not bore you to death but will categorically make you wonder 'Where is the that Puri Jagannadh who made films like Idiot, Amma Nanna O Tamil Ammayi and Pokiri?'.
We go with a 2 for iSmart Shankar.
Rating:
 out of 5

Reviewed by Gautham Pattikonda
* Poor
** Average
*** Good
**** Very good
***** Excellent
Stay tuned to BollywoodLife for all the latest movie reviews, updates and gossip from the world of entertainment!