From fashion to fitness, supermoms Malaika Arora and Kim Kardashian West have a lot in common – find out
From fashion to fitness, Malaika Arora and Kim Kadarshian West are similar in more ways than just one. Wondering how? Check this visual breakdown of how they are practically supermoms!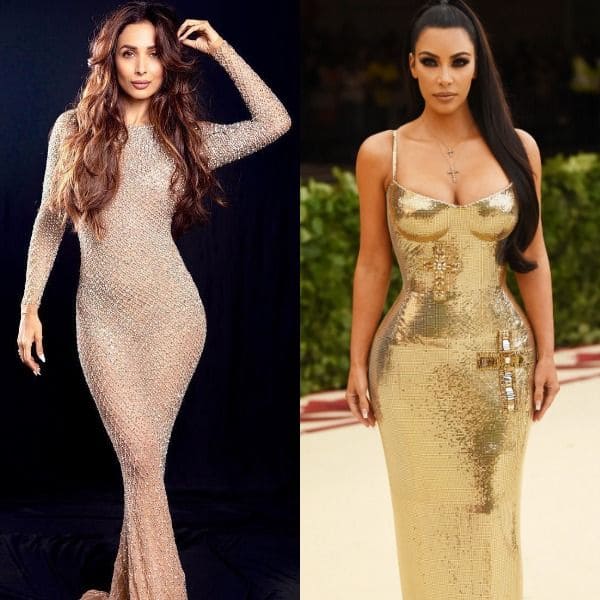 If there's one B-town mommy who can outrun and give girls half her age a run for their money, it's Malaika Arora. The diva is a popular name in showbiz and it's not rocket science why. Be it her sartorial fashion choices or the way she walks the talk with aplomb, Malaika takes us all by awe and leaves us inspired. In fact, she is the favourite of paps who love clicking her every time she steps out with beau Arjun Kapoor and even there she slays! Like that was not enough, she is also a full-fledged entrepreneur who is one of the best in her business BTW. Now, since we have established all of that, let's also marvel and gaze in amazement at the fact that Malaika Arora, the mom-of-one is 45 years old!
Having said that, we have to admit, there's supermom who is a legit media mogul and an irrationally hot one at that. Albeit, she is from the West. Rings a bell? Well, West- we are talking about Kim Kardashian West who is one of the most followed celebs on Instagram. Again, it's not rocket science why. And while we are at that, there more than A Insta game that's the common thread between Malla and Kim. Curious? Have a dekko!
Doting moms
Both Malaika and Kim are proud moms who love their kids to bits. Not just that, they often share small snippets of parenthood, how they spend quality time with their kids on their Instagram handle and it's inspiring in more ways than one.
Banging beach bodies
This one goes without a saying! Malla and KKW are fitness junkies and thanks to all the power pillates, both the moms are in fine(eeeeee) shape. They often flaunt their bikini bods and hey, why not?
Make it feshun
Without a doubt in the world, Malaika and Kim are as fashionable as they come. In fact, the red carpet divas are usually the ones who set trends in Bollywood and Hollywood respectively and we are just glad to see them in all their glory!
Entrepreneurs/Boss ladies
Apart from being in the showbiz, the divas are also businesswomen who run their own empires and ventures. Be it Malla's Diva Yoga or Kim's KKW Beauty, they have the acumen run show both on and off the camera.
Needless to say, both Malaika and Kim have a tight and close-knit girl squad that they swear by. And interestingly, they are sisters too including Amrita Arora, Karisma and Kareena Kapoor this side and Khloe, Kourtney Kardashian, Kendall and Kylie Jenner on the other. Talk about similarities, eh?