Cuteness Alert! Can you guess the star kids in this throwback family picture of the Kapoors?
While Anshula Kapoor is the centre of attention, she doesn t seem to be enjoying the ride or the limelight. Can you recognise other kids from the Kapoor family?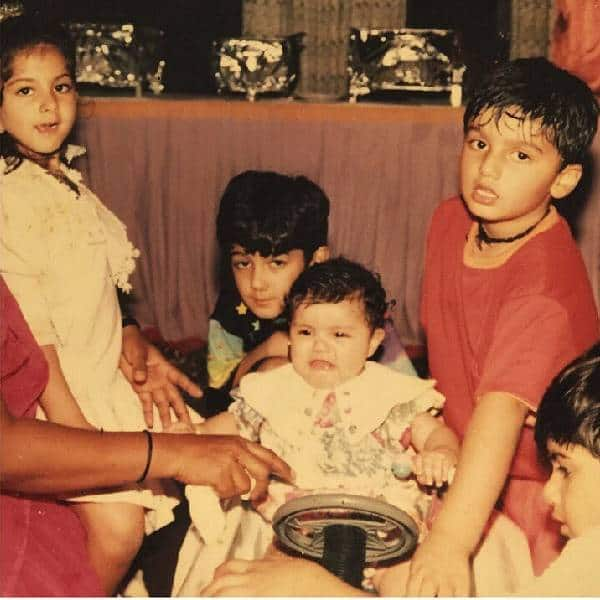 While we are in awe of Taimur Ali Khan and AbRam's cuteness, here's a childhood click of star kids who are currently enjoying the limelight as adults. Anshula Kapoor shared an adorable throwback picture from her childhood album and we are in love with the Kapoor kids. Can you guess the star kids doled up in this happy memory?
While Anshula Kapoor is at the centre of attention in this click, she doesn't seem to be enjoying the ride or the limelight. Anshula shared this picture on Instagram, detailing her dilemma that even today she is not too fond of driving. She posted, "This is still my expression when @arjunkapoor tells me I should drive hahahaha! Gotta love the 90s when we were all basically a cute messss!". The 90s batch of Kapoor kids also includes Arjun Kapoor, playing the protective brother. The actor dropped a witty comment on the picture, Arjun shared, "Could that kaala dhaaga be any tighter !!!" Apart from the Kapoor siblings, this click also includes Rhea Kapoor, who is Arjun and Anshula's uncle, Anil Kapoor's daughter.
Arjun and Anshula share a close bond and the actor has always been all praise for his sibling. In an interview with Huffington Post Arjun had said, "My sister, Anshula, has stood by me like a rock. She has gone through far worse. She's younger than me. I still had 11 years with my father living in the house. I had my mother living with me for 25 years but she only got 20. Imagine a child who has been through a life where the father couldn't be physically around all the time after the age of five. And the mother who was there physically all the time and then after 20 years, she wasn't there. Imagine the psychological scarring of that child. She's still more mature, very well-educated, honest and more sincere than me."
On the work front, Arjun is working on Ashutosh Gowariker's period drama Panipat. He will be seen playing the role of Maratha general Sadashiv Bhau, who led the Maratha expeditionary forces against the invading Afghan army, led by Ahmad Shah Abdali in 1759. Panipat also features Sanjay Dutt and is scheduled to hit the screens on December 6, 2019.