Anita Hassanandani CONFIRMS planning a baby with hubby Rohit Reddy post Nach Baliye 9 – read exclusive interview
Nach Baliye 9: In an exclusive interview, Anita Hassanandani spoke at length about ticking off an item from her bucket list with dance reality show Nach Baliye and also shedding light on her personal life.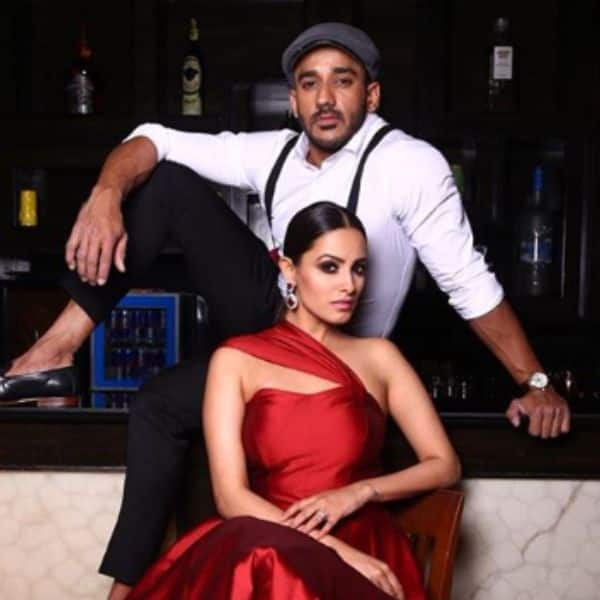 Bollywood star Salman Khan is bringing the next season of dance reality show Nach Baliye to fans. The ninth season of the celebrity dance reality show will have a twist in its format. The makers will pit regular TV couples alongside estranged couples. For the first time in the show, exes will be paired up to shake a leg on the dancing platform. One of the contestants in the season is TV actress Anita Hassanandani. The Yeh Hai Mohabbatein actress will be paired with her hubby Rohit Reddy. Recently, the actress, who was last seen playing Vishakha in the supernatural series Naagin 3, sat down for an exclusive conversation with BollywoodLife. During the conversation, Anita, who looked ravishing in a grey jumpsuit, spoke at length about ticking off an item from her bucket list with the show and also shedding light on her personal life.
I've worked hard
A day ago, BollywoodLife reported how Anita was the highest paid contestant on the dance reality show. When we pointed this out to the actress, she nonchalantly replied, "I like your sources." We further asked her if being the highest paid gives her a sense of pride to which she responded, "I've worked for 18 years, but I'm happy with what I'm getting. And I'm really lucky that I'm at a place where I get what I deserve."
Khatron Ke Khiladi, Jhalak Dikhhla Jaa, and now Nach Baliye 9
Anita, in an earlier interview, had stated that she always wanted to be a part of the couple based dance reality show. While talking to us, she revealed that Nach Baliye was indeed an item from her bucket list. She admitted, "For any TV actor, Khatron Ke Khiladi, Jhalak Dikhhla Jaa, and Nach Baliye" are the shows that are inadvertently part of their bucket list. "I have ticked the other two. And this (Nach Baliye) has always been pending. Every year, I'd tell my Baliye to participate and he would always say no," the actress quipped. Anita explained how doing a dance reality show deserves time and attention, therefore, she wouldn't have done it while juggling between two shows. "(But) Now that Naagin has ended, it all fell in place."
The passionate side of Rohit
Six years of marriage and still there's so much to explore for Anita and her hubby Rohit who is an entrepreneur. The actress admitted that a show like Nach Baliye where the two will spend most of the time together will help them get to know each other even more. "I think with this show, we'll get to know a new side of each other. That was one of the main reasons for doing it," she said. "Like I didn't know that he is such a go-getter. I didn't know that when it'll come to dance, he'll be like 'I'm going to do this'. This passionate side of him towards something that is not even his comfort zone, is a surprise to me. I'm loving this side," Anita added.
Exes cannot be friends
In the ninth season, the channel is pairing up ex-partners together. Estranged couples like Anuj Sachdev-Urvashi Dholakia, Vishal Aditya Singh-Madhurima Tuli and a few others will be participating in the season. However, Anita is quite clear that she wouldn't have been comfortable being paired up with her ex. "I'm a little old fashioned," she said. Anita also added that she thinks "exes can't be friends."
Ravie is the cutest baby on Earth
While the last year was professionally satisfying for the actress with her signing the biggest show and then becoming a businesswoman, the actress' good friend Ekta Kapoor welcomed a baby boy in her family. When asked about her bond with Kapoor's baby Ravie, Anita said, "I love kids. And he is the cutest child!" adding, "He is so adorable. Because of work, I haven't spent much time but I stay connected to him through social media. He is the cutest baby on Earth."
Plans for extending the family
As the actress claimed her love for kids, she also revealed that plans of extending the family were on the way. "Absolutely," Anita said when asked if she is ready to extend the family. "That was the whole plan. Nach Baliye is a journey that you can't do after a child. It gets a little difficult. Or you have to wait for your baby to grow up. So (we decided) after Nach Baliye we plan to have a baby," she admitted. Anita further added that it's a 'natural' process so they don't have a target month but most likely next year, is when the couple might welcome a baby.